UPDATE:  TreeSnap app is now available for Oregon ash (Fraxinus latifolia) to use with your seed collections (please also fill out the paper form)
SENDING SEED: It would be very helpful if you could do some of the basic cleaning


Please remove all debris from collecting bag including leaves and twigs (see images below)
Try to remove empty or insect damaged samaras
Fill out collection form and mail-in with the seed
Fill out Excel form and email with photos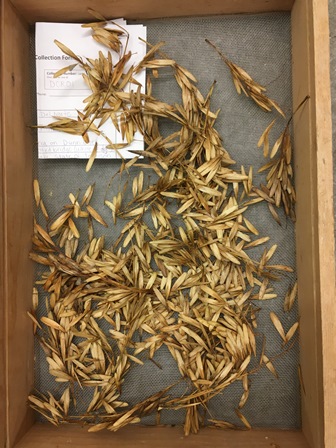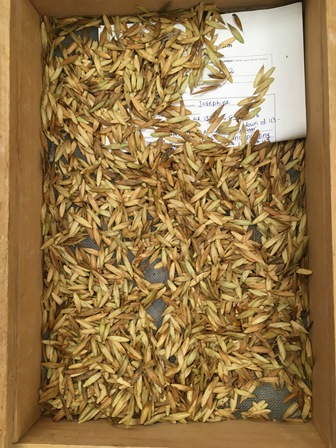 (samaras with debris)         (clean samaras) 
Introduction:  Oregon ash (Fraxinus latifolia) is an important species on the West Coast of North America, particularly in riparian areas.  But, the threat of the invasive emerald ash borer (EAB) (which has nearly wiped out green ash in parts of the country) suggests that the future of Oregon ash may be dim, and the species could go extinct – something no one wants.  Already, some municipalities such as Corvallis, Oregon have stopped using it in restoration projects and are now considering non-native tree species as replacements. EAB has already made it as far as Colorado, when will it arrive on the West Coast?  Can we do anything to save Oregon ash?  That is unknown, but the forest genetics/tree improvement and public gardens communities and others recognize more than anyone the value of genetics and tree improvement.  We have an early alert and have the chance to respond, but the time is now, or perhaps never.  What can we do?  We can mobilize as a community, be proactive, and see what we can do for this communities around us.    I have worked in developing genetic resistance for decades in various tree species, and what I have found is that the only way an actual applied program works is to have a community join in the search and journey. 
Here are the four attachments for Oregon ash collection:
1.       Oregon Ash Protocol with detailed description of how and what to collect (also covers some of the objectives)
2.       Seed ripeness and insect damage guide PowerPoint
3.       Collection form to take to the field and fill out
4.       Excel file with detailed collection information to be  email to Richard Sniezko (richard.sniezko@usda.gov) after collection and  when shipping out seed
Objective: Emerald ash borer (EAB) is now as far west as Colorado. Begin proactive, measures are being taken to address community concerns on the West Coast about the future fate of the important riparian species Fraxinus latifolia (Oregon Ash) - anticipating arrival of EAB by (1) initiating the first well documented resistance testing of this species to EAB, (2) establishing a genetic conservation planting that will also serve to examine adaptive genetic variation and be a sentinel planting for the species, We believe that very little (or no) examination of genetic variation in this wide-ranging species, which occurs in CA, OR, WA & BC has been done to date, and (3) preserve the genetic diversity of F. latifolia by depositing seed collections and storing them for long-term use and preservation prior to the destruction of EAB – these collections will also be a source for future genetic studies. 
Proposal:  Stratify and sow seed in late 2019 from a range-wide collection of Oregon ash to (1) provide 2-year old seedlings for EAB resistance testing (send to Dr. Jennifer Koch, with the USDA Forest Service's Northern Research Station, by summer/fall 2021), (2) to provide 1-year old seedlings for a combination field trial, conservation planting, and sentinel planting to plant in Oregon (likely on BLM's Tyrrell or Horning sites), and (3) deposit well-documented seed samples in one to three seedbank repositories (USFS & ARS) for long-term preservation and future genetic studies.
Need: To accomplish these objectives, we are requesting assistance (in Sept/Oct 2019) from individuals and organizations throughout the range of the species to help collect and document F. latifolia seed samples. Specifically we are asking for assistance from cooperating agencies/groups, tribes or citizen scientists in obtaining seedlots throughout the species native range, from California to British Columbia, and encompassing the range of elevations under which F. latifolia naturally occurs.