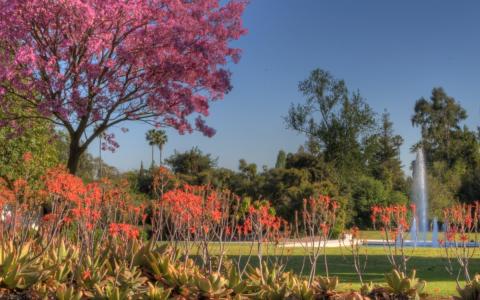 By Louis Sahagún
Officials at the Los Angeles County Arboretum and Botanic Garden are in an uproar over a plan to manage storm water and boost climate resiliency by cutting down "specimen trees" — some 70 years old and more than 100 feet tall — to make room for groundwater recharge ponds and a pump station.
The strategy was crafted by a consortium of five foothill cities and Los Angeles County Public Works. They believe a portion of the 127-acre paradise of flowering trees and shrubs in Arcadia, which draws more than 500,000 visitors each year, is conveniently located to capture, clean and store storm water pumped out of the nearby Arcadia Wash.
Construction of the facility that would consume up to 4 acres of the arboretum's Australia section could begin within a year or two, according to the group, which comprises the cities of Arcadia, Bradbury, Duarte, Monrovia and Sierra Madre, plus the county.
In the meantime, opponents led by executives of the Los Angeles Arboretum Foundation, a nonprofit founded in 1947 to raise financial support for the botanic garden, are sounding the alarm.
"A project of this scale would require the sacrifice of up to hundreds of irreplaceable arboreal specimens — and we're not going to let that happen," Richard Schulhof, chief executive of the foundation, said Friday. "The arboretum is not the right place for it."
Date:
Tuesday, January 19, 2021